S4E1 - Vladimir Mayakovsky (pt. 1/3)
The Overshares (feat. Alexander Billet)
1 year ago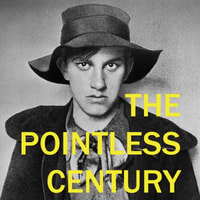 Episode Notes
S4 E1: Mayakovsky (pt. 1/3): The Overshares
Alexander Billet joins us to discuss the Soviet Futurist-Communist poet Vladimir Mayakovsky (1893 Baghdati – 1930 Moscow). We consider Mayakovsky's unique status among both modernists and poets; we begin to sketch the cultural milieu of the Russian Empire, Provisional Republic, and Soviet Union in the first three decades of the twentieth century; comparisons to other modernists, futurists, and the present day highlight the political, personal, and aesthetic elements of Mayakovsky's work. This episode mainly deals with the poet's pre-revolutionary life and work. Anna and Rachel talk shit on his love life. Frank laments walking waist-deep into his own sprawling, self-indulgent, biographical-political poetic epic. We all agree that Mayakovsky's work is impressive, complex, and worthy of serious contemplation, but we also rightfully slag him as the self-important gloom coomer he advertised himself to be.
This episode begins by assessing Mayakovsky's significance historically to the USSR and personally to us. We then give a brief overview of Mayakovsky's early life and discuss: A CLOUD IN PANTS / THE BACKBONE FLUTE / I LOVE
Find visual materials here: https://twitter.com/PointlessCent/status/1478395638693998604
Shout out to Locust Review: https://www.locustreview.com/ -- https://twitter.com/locustreview
The Pointless Crew: Frank Fucile (he/him/his) @thtopofmyvoice – Lit & Theory, Film & Media, Genre, Enviro & Tech Studies // Alexander Billet (he/him/his) @UbuPamplemousse – Poetry, Music, Cultural Criticism, Marxist Theory & History // Rachel Hamele (she/they/her/their/hers/theirs) – History, Humanities, Queer Studies, Fandoms // Anna Wendorff (she/her/hers) – Communications, Rhetorics of Sci & Tech, Feminism // Madalyn McCabe (she/her/hers) – Co-Producer, Sound Editing, European Studies
// Troll us on Twitter: https://twitter.com/PointlessCent // T-shirts are now available: http://www.teepublic.com/users/the-pointless-century // Watch us on Instagram: @thePointlessCentury // Support us on Patreon: https://www.patreon.com/ThePointlessCentury
Bibliography:
Brown, Edward J. Mayakovsky: A Poet in the Revolution, Princeton UP, 1973.
Mayakovsky, Vladimir. The Bedbug and Selected Poetry. Translated by Max Hayward and George Reavey, edited by Patricia Blake, Indiana UP, 1960.
Mayakovsky, Vladimir. Mayakovsky. Translated and edited by Herbert Marshall, Hill and Wang, 1965.
Mayakovsky, Vladimir. Poems. Translated by Dorian Rottenberg, USSR, 1972.
Mayakovsky, Vladimir. Selected Poems. Translated by James H. McGavran III, Northwestern UP, 2013.
Mayakovsky, Vladimir. Volodya: Selected Works. Edited by Rosy Carrick, Enitharmon, 2015.
MUSIC: Rites of Spring – "For Want Of" from Rites of Spring (Dischord, 1985)
FUGAZI – "Epic Problem" from The Argument (Dischord, 2001)
ART: Portrait of Vladimir Mayakovsky in 1910 (unknown photographer)