S4E2 - Mayakovsky (pt. 2/3)
The Sh!tposts (feat. Alexander Billet)
1 year ago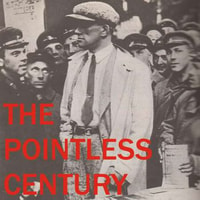 Episode Notes
S4E2: Mayakovsky (pt. 2/3): The Shitposts
Alexander Billet joins us to discuss the Soviet Futurist-Communist poet Vladimir Mayakovsky (1893 Baghdati – 1930 Moscow). We consider a couple of his pre-revolutionary futurist poems, and some of his key works from the revolutionary period of February 1917 to February 1923. Anna and Rachel talk shit on his love life and puzzle over his imagery. Frank makes some bad jokes and talks about photos you can see if you follow on Insta and Twitter. We barely scratch the surface of Pro Eto ("About That" AKA "About This" AKA "That's What" AKA "It"), a dizzying montage of personal and political impressions. The final episode will continue with this, several longer poems of the revolutionary era, and a few remaining Communist faves.
This episode focuses on: GREAT BIG HELL OF A CITY / LISTEN! / ORDER No. 1 TO THE ARMY OF ARTS / ORDER No. 2 TO THE ARMY OF ARTS / PRO ETO "ABOUT THAT" (alternate English titles in paragraph above)
For more on ProletCult and Alexander Bogdanov, see: Guerrilla History, "Art and the Working Class w/Taylor Genovese," 20 Jan. 2022. https://guerrillahistory.libsyn.com/art-and-the-working-class-w-taylor-genovese
For more on the Russian Revolutions of 1917, see: Duncan, Mike. Revolutions, Season 10.
The Pointless Crew: Frank Fucile (he/him/his) @thtopofmyvoice – Lit & Theory, Film & Media, Genre, Enviro & Tech Studies // Alexander Billet (he/him/his) @UbuPamplemousse – Poetry, Music, Cultural Criticism, Marxist Theory & History // Rachel Hamele (she/they/her/their/hers/theirs) – History, Humanities, Queer Studies, Fandoms // Anna Wendorff (she/her/hers) – Communications, Rhetorics of Sci & Tech, Feminism // Madalyn McCabe (she/her/hers) – Co-Producer, Sound Editing, European Studies
// Troll us on Twitter: https://twitter.com/PointlessCent // T-shirts are now available: http://www.teepublic.com/users/the-pointless-century // Watch us on Instagram: @thePointlessCentury // Support us on Patreon: https://www.patreon.com/ThePointlessCentury
Shout out to Locust Review: https://www.locustreview.com/ https://twitter.com/locustreview
Bibliography:
Brown, Edward J. Mayakovsky: A Poet in the Revolution, Princeton UP, 1973.
Mayakovsky, Vladimir. The Bedbug and Selected Poetry. Translated by Max Hayward and George Reavey, edited by Patricia Blake, Indiana UP, 1960.
Mayakovsky, Vladimir. Mayakovsky. Translated and edited by Herbert Marshall, Hill and Wang, 1965.
Mayakovsky, Vladimir. Poems. Translated by Dorian Rottenberg, USSR, 1972.
Mayakovsky, Vladimir. Selected Poems. Translated by James H. McGavran III, Northwestern UP, 2013.
Mayakovsky, Vladimir. Volodya: Selected Works. Edited by Rosy Carrick, Enitharmon, 2015.
Schick, Christine Suzanne. Russian Constructivist Theory and Practice in the Visual and Verbal Forms of Pro Eto. Doctoral Dissertation, UC Berkeley, 2011. https://escholarship.org/uc/item/3949b3fr
MUSIC: FUGAZI – "Epic Problem" and "Ex-Spectator" from The Argument (Dischord, 2001)
ART: Vladimir Mayakovsky with Red Army soldiers in 1929 (unknown photographer)