S3E4 - Johnny Got His Gun / Pale Horse, Pale Rider
Anna shares her expertise in heavy metal; Rachel describes a book as "peace-y"; Frank complains about Dalton Trumbo's unwillingness to insert actual communist propaganda into his most explicitly political movie
11 months ago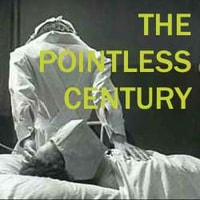 Episode Notes
S3 E4: Johnny Got His Gun / Pale Horse, Pale Rider
*TW: Discussion of severe war wounds and suicide
Anna shares her expertise in heavy metal; Rachel describes a book as "peace-y"; Frank complains about Dalton Trumbo's unwillingness to insert actual communist propaganda into his most explicitly political movie; we all think the 1939 novel version of Johnny Got His Gun is a landmark work, but splitting hairs on the value of other examples of the disjunctive post/modernist form is more difficult.
Watch Frank's video giving an eco-materialist approach to these novels for ASLE 2021 here: https://www.youtube.com/watch?v=-23807y9lQ8
WORKS CITED:
Johnny Got His Gun. Dir. Dalton Trumbo. Writ. Dalton Trumbo & Louis Buñuel. Perf. Timothy Bottoms, Kathy Fields, Marsha Hunt, Jason Robards, Donald Sutherland, Diane Varsi. World Entertainment, 1971.
Metalallica. "One." 1989. https://www.youtube.com/watch?v=iT6vqeL-ysI
Porter, Katherine Anne. Pale Horse, Pale Rider. Modern Library, 1939.
Trumbo, Dalton. Johnny Got His Gun Lippincott, 1939. Bantam, 1989.
Further Reading & Listening:
Morton, Timothy. Humankind: Solidarity with Nonhuman People. Verso, 2017.
Outka, Elizabeth. Viral Modernism: The Influenza Pandemic and Interwar Literature. Columbia UP, 2020.
Painter, Mark. The History of the Twentieth Century. Ep. 171-172: "Pale Horse, Pale Rider." Oct. 2019. https://historyofthetwentiethcentury.com/2019/10/
The Pointless Crew: Frank Fucile (he/him/his) – Lit & Theory, Film & Media, Genre, Enviro & Tech Studies // Rachel Hamele (she/her/hers) – History, Humanities, Queer Studies, Fandoms // Anna Wendorff (she/her/hers) – Communications, Rhetorics of Sci & Tech, Feminism // Madalyn McCabe (she/her/hers) – Sound Editing, European Studies
// Troll us on Twitter: https://twitter.com/PointlessCent // T-shirts are now available: http://www.teepublic.com/user/the-pointless-century // Watch us on Instagram: @thePointlessCentury // Support us on Patreon: https://www.patreon.com/ThePointlessCentury
MUSIC: Bad Brains – "F.V.K." Metalallica – "One"
ART: Still from Johnny Got His Gun, feat. Timothy Bottoms & Diane Varsi, dir. Dalton Trumbo (World, 1971)